FOOD NETWORKS
Rémi Jourdan, Andrés Ruiz, and Yannick Wettstein


Feeding Zurich from the Millenial's Perspective: Let's Democratize Food Networks!


This article aims to show the problematic behaviour of the supermarkets who are dictating the food production and distribution networks and finally deciding how we have to eat. Taking Zurich as a case study we want to emphasize alternative initiatives which tackle different problems in this almost monopolised market. Therefore, we have created a manifesto inspired on the ideals and ethics that are being tested by food market pioneers towards a more sustainable future of food networks; against the establishment of capitalist conditions that have been dominating until today.

---
Supermarkets predominate Zurich's food market.
Zurich's food supply is dictated by some few supermarkets.
I MONOPOLY OR DIVERSITY?

Zurich's food market landscape is strongly defined by the presence of few big players which are occupying locations all around the city and dominating the food distribution. They have the tendency to steadily grow and open new shops strategically located in the heart of the district centers. This strategy makes them reachable for everybody and by any means of transportation, such as car, bike, public transport, or foot.

To be able to correspond all people's needs their shops vary in size, offer diverse products and regular opening hours. While small Migrolino shops can help out for Sunday's basic grocery shopping, huge MMM shops aim for an all-round, mall-like shopping experience. Their product range is constantly growing and their prices tend to shrink at the same time.



Migros' empire, Limmatplatz
As a result most small grocery shops have already disappeared, as they have not been able to remain competitive. Finding a grocery shop which is not owned by the main Swiss supermarkets is rather an exception today. Those which are able to survive offer niche products for a specific type of customer.
Zurich's current supply chain—a complex relationship between many players.
Current supply potential per market typology.
---
Migros food truck, 1925. Migros Archive, 2020.
II THE RISE OF MIGROS AND COOP

Zurich, 1850. Small cooperative shops make appearance in the city. One cooperative consists of one hundred persons on average. They organizse themselves to buy basic food as bread, flour, butter, and oil in larger quantities for cheaper prices. In 1890, the head organisation Verband Schweizerischer Konsumvereine is founded and became the root of today's wholesale giant Coop. Their strategy is to regroup the small private cooperatives to bigger ones and give access to everybody, including nonmembers.

Cooperative shop, before 1890. COOP Archive, 2020.
The Verband Schweizerischer Komsumvereine is pulling the strings tighter and tighter, 1930. Association for industry and migration history in the Basel region, 2020.
On August 15, 1925 five refurbished Ford Model-T make stops in the city. They all drive under the name Migros AG and promote six products: rice, sugar, pasta, coconut fat, coffee, and soap. Prices are cheap as the products are sold in smaller sizes than the wholesaler's products but bigger than the small retailer's ones (mi-gros). Another key advantage to ensure cheap prices is the direct connection of Migros with producers and without the need of any intermediary. Their approach is simple, considering two possibilities: either their producers sell them mass products, or they sell their company to Migros. If that is not the case, they need to find different markets where they can sell their products. The producers' choices are difficult: if they commit to sell mass products to Migros for cheap prices, then they will have to sacrifice their good relations with the small retailers and lose their recognition by selling their products under the name of Migros instead of under theirs. Alternatively, the producer has to find other ways to remain independent, however risking to fall in bankruptcy and to eventually be bought by Migros. In most of the cases Migros has won this bet and since then it has become the number one retailer in Switzerland.

First Ford Model-T supplying the cities, after 1925. Migros Archive, 2020.
Implementation of large distribution centers strategically located near to highways, 1966. Migros Archive, 2020.
After having released the fixed selling prices a new typology of competitors enters the market in 1967. Denner opens the first discounter in Zurich and grows rapidly all over Switzerland. Its maxime is to always have better prices than Migros or Coop for their customers. In the 2000s two German discounters find their way to the Swiss market: Aldi counting around 200 branches today and Lidl with 120 branches. In 2007 Migros and Denner join forces. For Migros it finally means that they can sell alcohol and tobacco—just under another name and without the orange "M" on the packaging.

Opening of the first Swiss supermarket in Basel, 1952. Migros Archive, 2020.
Opening of the first discounter in Zurich, 1967. Denner Archive, 2020.
While the discounters share an ever-growing piece of the market's cake the two giants are not resting either. They are still following the same strategy as 130 years ago: eat the smaller to get bigger and diversify the offer.
1850 to 2020—a dangerous evolution of the food market's players.
How the Avocado Became the Supermarkets' Import Star
Focus

To diversify the offer means finding exotic newcomers for the domestic market and setting new food trends. One of the supermarkets' favourite picture book story is the story about the avocado. Although it might change from another perspective.


Since the extinction of the last giant mammals of the Cenozoic who were responsible of propagating the undigested avocado seeds, the propagation of this ancient fruit has entirely depended on humans.

Every seed grows into a different avocado species from the one that originated it. This represents a challenge for producers who want to maintain specific genes which have proved themselves successful for the global trade. The avocado's unique reproductive behaviour has mainly been studied in the 20th century in the US and has led to two new super-avocados: the Hass, named after its discoverer, and Fuerte. These two species are not in competition with each other but form a cross-pollinating relationship on the orchards. The Hass avocado is mainly found on the global market and has an almost monopolistic position. The Fuerte on the other hand is mainly distributed in the domestic market.

A Swiss eats about twelve avocados per year—a number which is constantly growing. The green gold is a highly profitable fruit with different stakeholders involved in its supply chain: farmers, exporters, importers, consumers, the agrochemical industry, water companies, mafias, label institutions, NGOs, and governments. Each stakeholder has his own social, economic, and environmental interests. Each action does affect the global market and does eventually change the territory.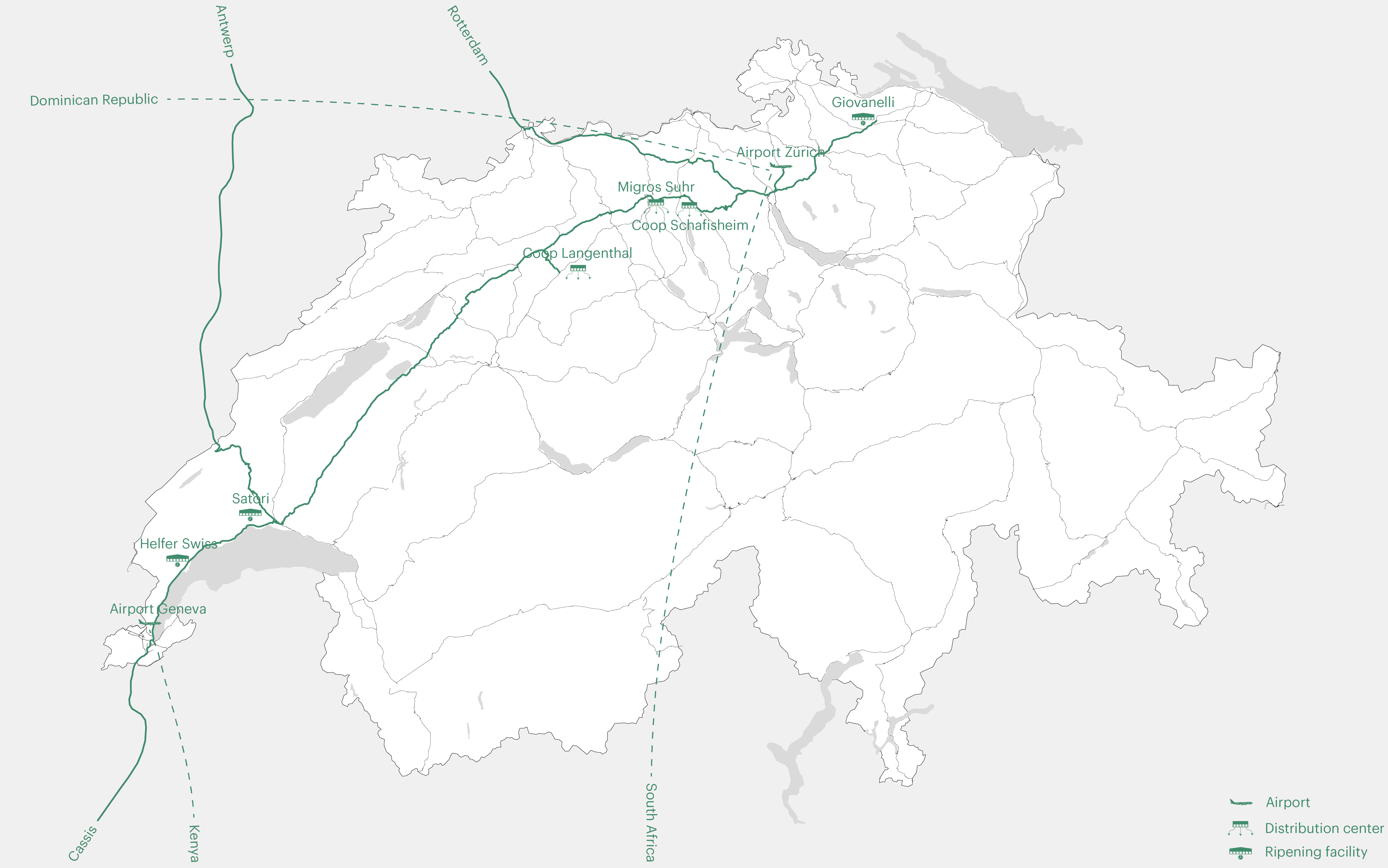 The avocado production takes place in hidden and vast monocultural hinterlands around the globe without limits for resource exploitation. Outsourcing of labour and intensive use of land are playing a central role. Its economic value is not created in the production process but in the logistic and commercialisation of the fruit. In order to ensure the maximum profit, the supply chain is evermore rationalising and industrialising with more efficient technologies.
Who pays whom in a fairtrade supply chain?

To guarantee a perfect avocado, the natural ripening process after its gathering needs to be postponed. The cold supply chain ensures a safe transportation of avocados to Switzerland which can last several days if they come by plane or truck and up to several weeks if they come by container ship. The supply chain in Switzerland forms itself along the Green Belt: distribution centers, ripening facilities, and the two main airports of Switzerland which are situated on the Mittelland axis that connects Geneva to Frauenfeld. Once the avocados arrive in the Alpine country, their ripening process is accelerated in specialised facilities by reproducing a tropical atmosphere and by using ethylene gas. The ripped fruits are then mainly distributed by Migros and Coop to finally arrive in every grocery shop.
Tracking the beginnings of
organic faming in Switzerland.
SRF, 2014.
Constant Innovation to Feed the Supermarkets' Hunger


To be able to survive, the small market players have to find new niches and constantly innovate, as their successful ideas get copied by Migros and Coop. What had started as biologische Landwirtschaft with few pioneers around Rudolf Steiner in the 1920s is today a status symbol for a sustainable diet.

In the 1930s Maria and Hans Müller's school for organic farming in Möschberg raised international attention in the scene. In their house garden the students could experiment with forgotten and alternative cultivation methods. Organic products were mostly sold directly at the farm or in some few health-food shops. Biodynamic organisations like Demeter, Biofarm, Progana, or SGBL were founded but did not cooperated until they acted together under the label Bio Suisse in 1981.

Farmers bringing their vegetables by dog cart to Zurich's markets, 1914. Beerstecher Archive, 2020.
Maria and Hans Müller, 1930s to 1950s. COOP Archive, 2020.
They would eventually not miss the opportunity to cooperate with the most important players of the market. In 1993, Coop launched its Naturplan line followed by Migros' organic products in 1995.
Since then the product range grows constantly. Today organic products represent more than 10 percent of the Swiss food market.


By marketing the idea "Bio" to a simple commodity you can buy in every supermarket, the customer expects more variety from local to global organic products for affordable prices. The pressure on the farmers to produce even more and cheaper products became the rule of the game. Thus, collaborating with Migros and Coop means accepting their conditions.

The start of a partnership between Coop and Bio Suisse, 1993. COOP Archive, 2020.
Coop is looking for new farmers to supply their Naturplan line, 1994. COOP Archive, 2020.

Producers need to establish their own logistic departments to sort, wash, pack, and label their goods. They are also responsible of delivering the ready-to-go-in-the-supermarket-shelves' products once per day. To summarise: all the work and risk, even until the last step, stays on the producer's side. Migros and Coop are only responsible for distribution and selling.

To counteract the supermarkets' highly reprehensible behaviour, important Bio producers and distributors meet weekly by teleconference to set recommended selling prices for the farmers. However, some farmers are still accepting lower prices than their production costs. They are afraid of not being able to sell their goods and therefore, being forced to transform them into biogas. As a result the whole market is determined by fake prices and help the supermarkets to have even more pull.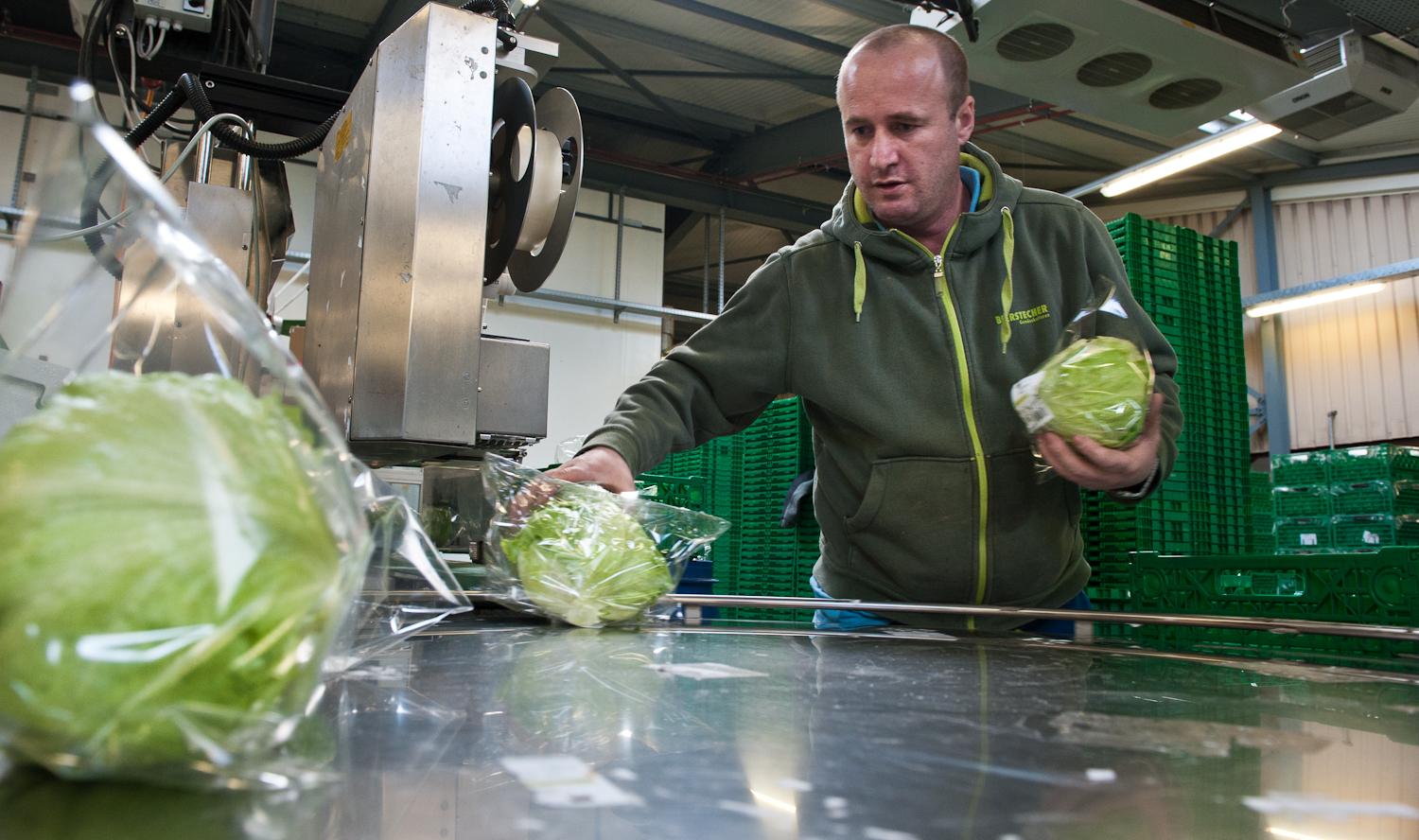 Packing salads for the supermarkets. Beerstecher Archive, 2020.
Washing radishs for a perfect look. Beerstecher Archive, 2020
To counterbalance cheap foreign import products meaning more competition for the domestic farmers, the state developed the Zwei-Phasensystem: When food is not seasonal in Switzerland it can be imported without restrictions by companies settled in Switzerland. During the season, import is put at disadvantage by high custom duties. However, it is often economically more interesting to import from abroad. The idea to protect domestic production is appreciative but the actual effect of this instrument is questionable.


---
Advertising different supermarket departments with customised architecture
III PROS AND CONS OF BIG RETAILERS
Supermarkets are attractive to the majority of consumers due to the diversity and prices they offer. This is only possible as free trade treaties between the consumer and producer countries exist. The quality range of products varies significantly. On the one hand, products labeled Bio or Demeter need to follow strict regulations during the cultivation period which ensures good soil and food quality. On the other hand, cheap product lines almost do not have any restrictions. Food is treated with innumerable chemicals during the cultivation, transportation, and ripening process without caring about the soil nor the food quality.
Most city residents find shopping in supermarkets attractive as almost no planning is needed. Flexible shopping is important for consumers in a daily life routine, ruled by regular working hours.
However, this consumer and supermarket behaviour involves many problems, one of them is the food waste. As the big supermarkets can play with the producers and are not forced to buy all their products, if they do not meet their aesthetic expectations. Therefore, there is a huge overproduction of food every year. The farmers have a hard time finding new markets for their products spontaneously. They are generally not interested in donating this overproduction as it would then mean less consumer demand in the supermarkets and therefore, cheaper selling prices. Also, the export costs to other countries are too high to be worthwhile. The result is a huge food waste which in the best case is transformed into biogas.


Explanation of the evaluation criteria.
Outside ramps where fresh food is delivered every night.
One of the few farmers selling local vegetables.
The
Engrosmarkt
represents an alternative platform to the supermarkets for restaurants, small grocery shops, or market stalls. To be allowed to buy there, you need to be registered as a company dealing with food in Switzerland. The huge building incorporates forty-four companies who are mainly selling fruits and vegetables from all over the world. To offer the freshest food as possible, the Engrosmarkt has adapted its opening hours to the food logistic systems: fresh products are delivered in the late evening. Most of the important trade is already done before small restaurant owners come to the official opening hours from 4 a.m. to 10 a.m.
Despite being an alternative selling point to the supermarkets, the Engrosmarkt does not change the system behind food production and distribution. It operates in a very similar way to other retailers, thus it presents the same problems about transparency and food waste which, also demand taking a monopolistic position in Zurich.
Testing the Supermarkets' Transparency
Story from a personal experience

Where a product really comes from, who produced it, under which conditions and who the intermediaries are, remain unanswered questions. In the supermarket you would be directed from one employee to another; then to the branch manager, who will tell you to make an appointment by calling a certain number. Calling this number will lead you to a security server who cannot give you the right number that you request and asks you to call again before 7 a.m. in the morning. But the next day the answer remains the same: "We are not allowed to give you the right number". Does anybody really deserves this working atmosphere, being threatened to say something wrong at all times?

---
"Essen ist politisch": People demonstrating for alternative food markets and distribution, Bern. Pascale Amez, 2020.
IV A SEARCH FOR MORE FAIR & SUSTAINABLE MODELS

As counter-reaction to the big retailers, many initiatives have raised. They are proposing different solutions for specific aspects of the predominant food market which, is only profit oriented and does not take into account ecological damage and health.
Today they have a marginal impact but find evermore resonance in a society which is interested to do something good for the planet. The small initiatives claim to be scaled up by replication of their models to reach a more important share in the food market which is controlled by few global retailers. They are not afraid of collaborating with these monopolists and are rather interested to have an impact on their mode of operation.



---
gebana
Farmers Deserve a Fair Piece of the Cake
"There is no fair product, fair trade is a process."
Ursula Brunner, Banana Woman since the start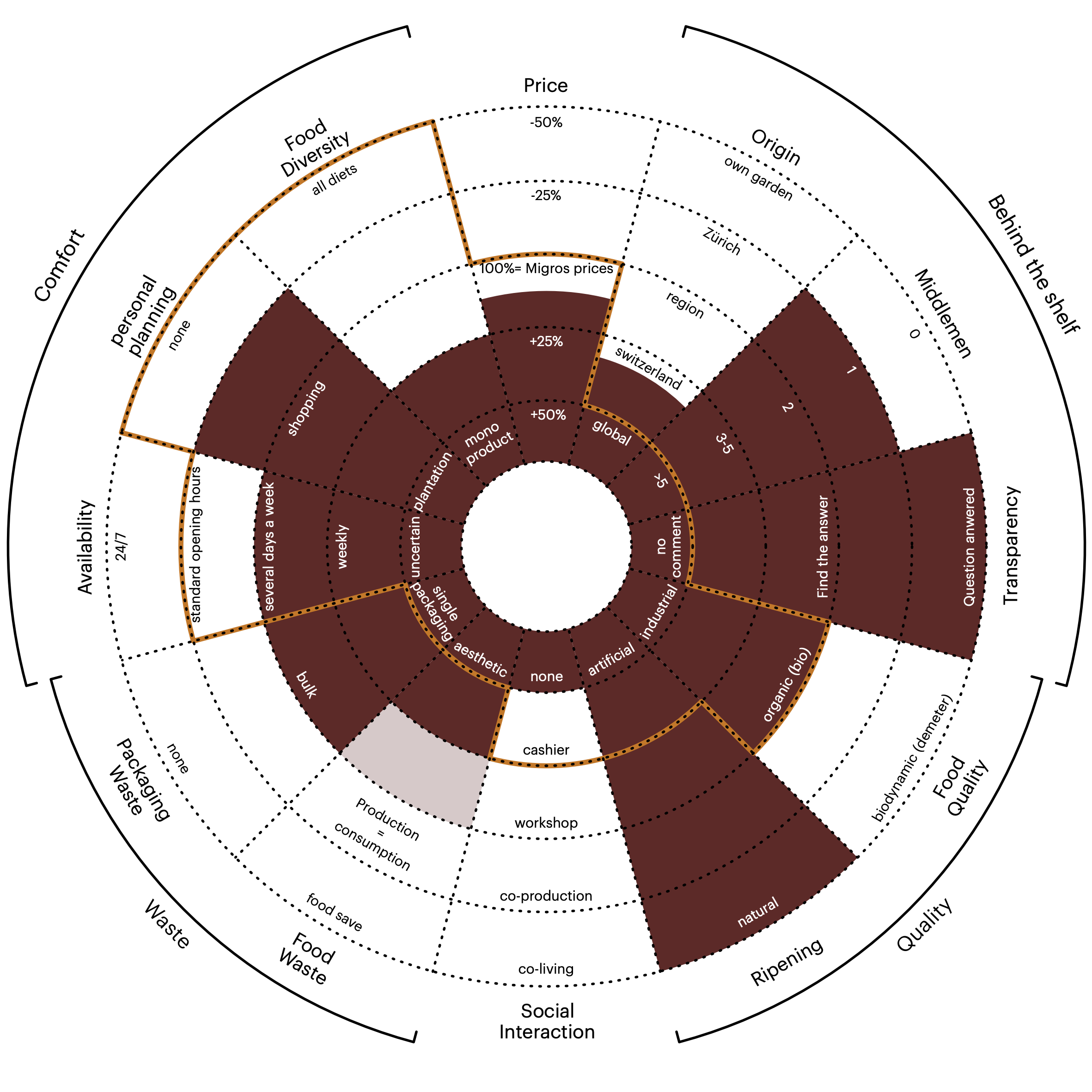 gebana
has emerged from the movement for a fairer global trade in 1973. The Swiss
Banana Women
denounced the exploitation of workers in banana plantations in Latin America. After getting through the fair trade label's introduction in the supermarkets in the 1990s the
Arbeitsgemeinschaft GErechter BANAnenhandel
converts from an association to a company called gebana.
Explanation of the evaluation criteria.
Fighting for a fair banana trade, 1973. gebana Archive, 2020.
Evolution to a fair online shop.
Screenshot of gebana's website, 2020.
However the main goals have remained the same. gebana does not seek to completely ban the import of products that cannot grow in Switzerland, but wants to improve the working conditions of the farmers working with them, in order to ensure stable conditions for both farmers and retailers.
Here are some innovations that characterise the way gebana operates.
gebana prefinances 80 percent of the production already before the harvesting season in order to ensure economic stability for the farmers. By doing this, farmers can concentrate themselves on improving the way they plant and harvest their products, instead of desperately trying to sell them at extremely low prices to big retailers.
Costumers make their orders on gebana's website without knowing when exactly the products will be delivered to them. Customers are encouraged to do group-orders as it is easier and cheaper to handle with larger quantities.
Farmers are not forced to pick their fruits before they are ripe enough for transport. As they are not treated chemically during an artificial ripening process, products are fresher and have a better taste.
gebana shares 10 percent of a product's revenue sold through its online shop with all farmers who produce this kind of product for gebana. The first time gebana shared its revenue was in Burkina Faso in 2019. Now this model gets implemented in other production countries step by step.
gebana delivers the ordered products directly to their customers without the need of any intermediary.
At the end of the year gebana shares its profit. One third goes to all employees in the north and the south. Another third goes to the customers in form of a limited sale on the entire assortment. The last third goes to gebana's shareholders who directly reinvest the money in the company.
---
Grassrooted
Saving Ugly-Looking Veggies
"Peasants have the awareness for foodwaste but no chance to change their production as the big retailers set the norms. It is important that our alternative model can be copied by other people fighting for a new relationship between consumer and producer."
Dominik Waser, initiator Grassrooted
Grassrooted
is an organisation that has its foundation in young people's movements and started as an activist movement. They have observed a huge number of vegetables produced locally that end up being dumped and finally transformed into biogas. These vegetables produce only a small amount of energy while also emitting harmful gases such as methane.
60 percent of all produced vegetables are thrown away—partly in every household and partly during the production process. One significant reason for this huge food waste has its origin in aesthetic expectations for vegetables set by the supermarkets. In their opinion, people only want perfectly looking vegetables, equal in size, which could therefore represent lower effort in cooking.
Grassrooted's well-known acts are the three tons of
non-supermarket conform
carrots dumped on Helvetiaplatz or the sale of sixteen tons of
overproduction
tomatoes at Hardbrücke within one day. Grassrooted sees food waste as a system inherent problem that cannot be solved with these kind of acts. However they help to raise awareness in society.

Explanation of the evaluation criteria.
"luxury surplus". nau, 2018.
Saving vegetables from becoming biogas. Tagesanzeiger, 2018.
By having founded a food cooperative in 2020 Grassrooted really proposes a different model to the predominant food market. As cooperative they organise the purchase and distribution of food themselves. Their diet is not dictated by the supermarkets but they rather choose the quality of products and belonging farmers who suit their ethical values. In Grassrooted's case only organic farmers are supported. The cooperative system is based on members who get a discount price on the whole food assortment. But also persons who are not part of the cooperative can buy food in the Grassrooted shop which makes this concept so unique. In the shop you can find dry bulk products, dry fruits offered by gebana and saved vegetables. They do also offer a six kilogramme saved vegetable box which is delivered at home via bicycle courier every week.

---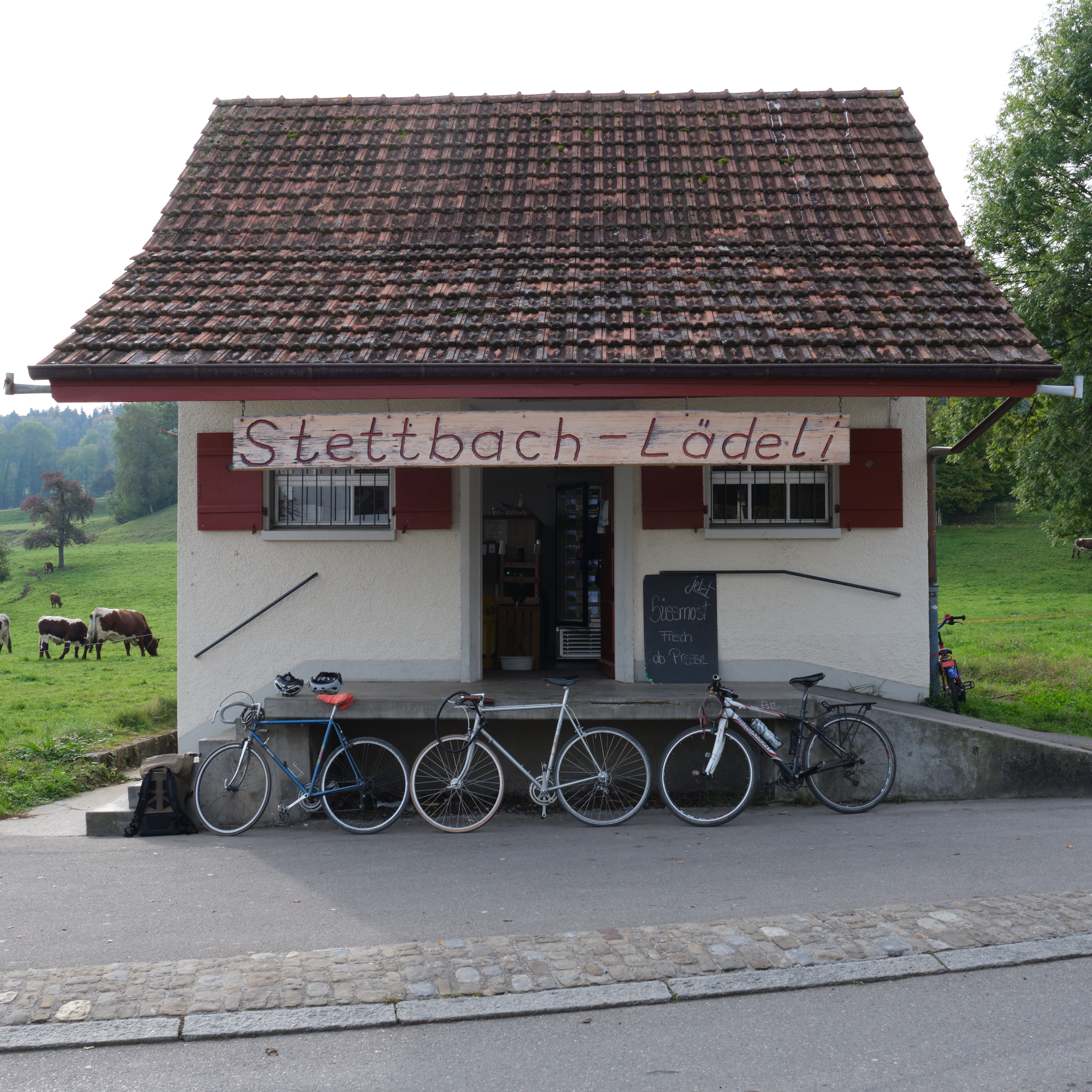 Stettbachlädeli
Commons for a Direct Sale
"As we pick all our apples by hand they are not competitive for the big retailers. So we sell them together with different products from other families in the Stettbachlädeli. Our biggest income is still the milk production for the big industries." Family Nussbaumer, Gfellerhof
Due to the time-intensive labour farmers must perform on their own farms, it is very difficult for most of them to dedicate even more time to sell products in their own farm shops. Mostly they end up selling them to the big supermarkets which collect products from many other small farmers. These products are all mixed together to obtain a homogenous product marketed under the supermarket's name, mostly without even mentioning the farmer's name.
Farmers are however doing most of the work, including packaging and labelling for the big supermarkets who are only performing the last part of the process: the sale. For this last step they take about 40 perdent of the final price. Farmers instead take the whole production risk over the whole year for a rather small piece of the cake.
As an answer to this injustice some small farmers have reacted by setting up common selling spaces such as the
Stettbachlädeli
where they can sell their organic products directly without needing any external intermediary. The common infrastructure consists in the building itself and
food-ATMs
which make a salesperson unnecessary. The
food-ATMs
are fed once per day with fresh milk from the nearby cows, sausages from Zurich's water buffalos, or apricot juice from Valais. Farmers do also have the possibility to offer products which cannot be sold to the supermarkets such as apples harvested by hand. Due to their hand-intensive labour the purchase price offered by the supermarkets is too low for the farmers. In the Stettbachlädeli they have the opportunity to sell them as a special niche product for a fair price.
However they are still depending on the supermarkets which are purchasing their farm products in huge amounts. The Stettbachlädeli is only representing approximately 5 percent of their income.

Explanation of the evaluation criteria.
---
Chez Mamie
Zero Waste
"Buying at our place means less products with different quality, another diet and less waste than at Coop or Migros. It also means organisation of time and resources. I am proud of our customers who do the effort to come to buy at our place."
Sandrine, manager Chez Mamie Zollstrasse
Food packaging has only started in the 1950s and established as
normal
during the 1980s. Today it is almost impossible to find any unpacked food in the supermarkets as they all need to fulfill certain hygienic criteria during distribution and sale.
Chez Mamie
is one out of four zero-waste shops in the city that do not use individual packaging for their products. Their credo is "progress through regression and decline". Sometimes it is worthwhile turning back to former ways of handling food instead of forgetting them and starting new trends which can hardly be reversed. We do not even have to look back that far away in the past.
A sustainable food diet must be achievable for everybody without too much effort. Chez Mamie does only offer products which show a social and environmental awareness. The customers can expect the same quality of products—in this case all organic—and trust the whole assortment to be fair. Most products are made in Switzerland except of niche products which cannot be found in Switzerland.
The customers have to bring their own containers to pack the food which does exclude large spontaneous shopping. To do the weekly shop they have to plan time and packaging.
However this planning can be reduced to a minimum the more the customers get an awareness for their diets: w
hich product do I really need? How much do I need?
Chez Mamie helps to achieve this awareness by having a manageable size assortment without really missing something. Customers are less tempted to buy things which were not on their shopping list. They can also precisely weigh the quantity of a needed product so that an overconsumption due to large quantities imposed by the supermarkets can be avoided.

Explanation of the evaluation criteria.

---
Farmers' Market
Keeping an Ancient Tradition Alive
"Saturday I am going back to Ticino. During the weekend I am going to the mountains to find the best products and on Tuesday I am back in Zurich. Its my duty to bring the best Salametti to Zurich so that the Zürcher do not have to travel to Ticino every week."
Mario, Ticinese market stall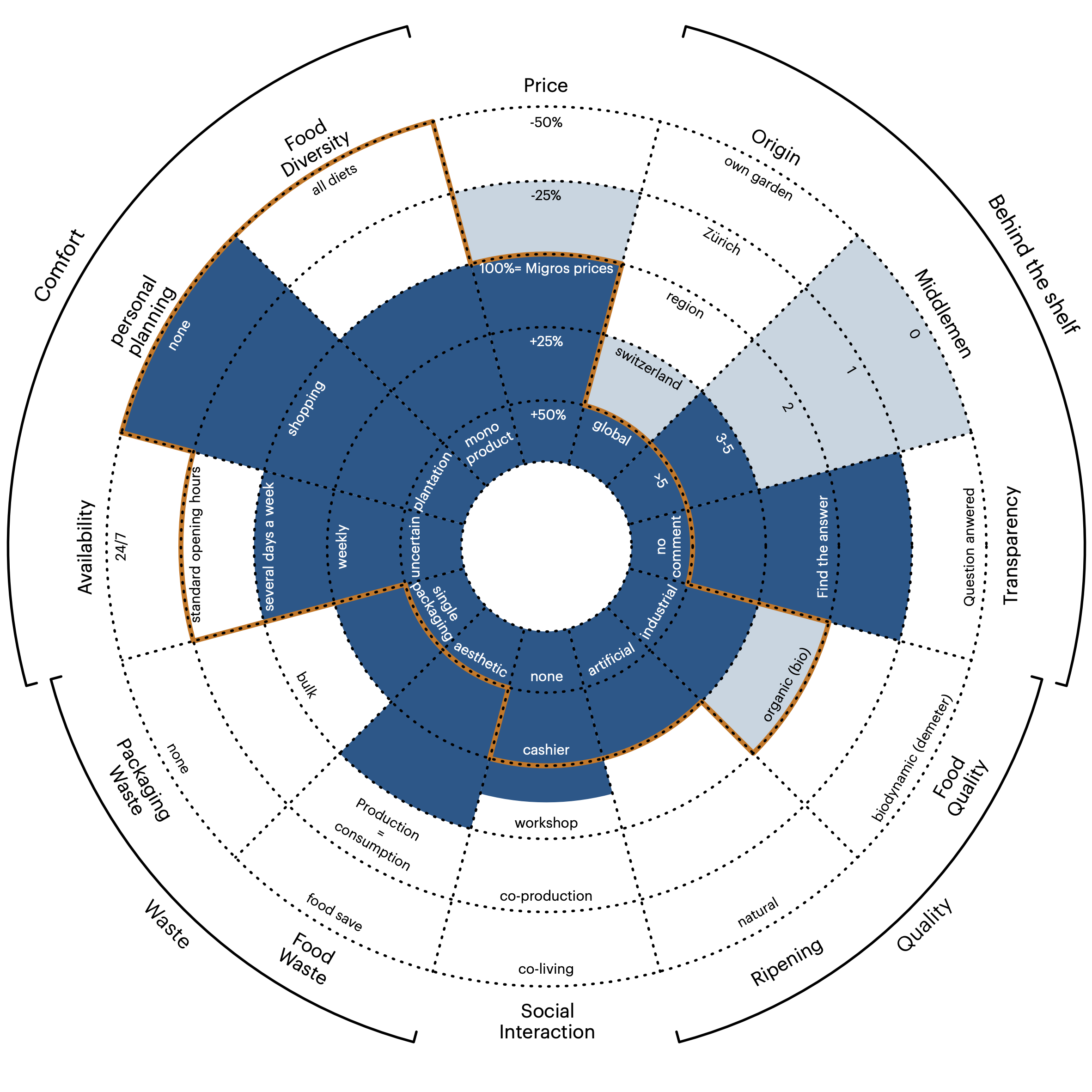 The farmers' market is one of the oldest selling typologies which has its beginnings in the ancient times when people became the right to trade goods in cities. Over the course of time mobile stalls have been developed to be able to deserve different markets on a local radius.

Zurich has twelve markets per week on seven public places. They open early in the morning and close at noon, except of Thursday's market at Tessinerplatz which is open until 7 p.m. While the customers used to be housekeepers in the local district who could go to the markets in the morning, this model is not adapted to today's society anymore. However, on weekends the customers are more diverse. The market is becoming a place of excursion and tourist attraction rather than a place to do weekly household shopping.

Depending on the market's size one can find almost every product needed. The market stalls are specialised, mainly for fruits and vegetables, bread, dairy products, or meat. The quality can differ from exotic mangos grown organically to locally produced potatoes under conventional agriculture.

Mario, the owner of a Ticinese market stall has developed a strategy to satisfy different types of clients. He sells some seasonal food from his own garden in Ticino. He complements his offer with niche products from mountains in Ticino that cannot be found elsewhere in Zurich and exotic fruits which he buys from the Engrosmarkt. Mario knows very well under which conditions his Ticinese specialities are produced, however it is impossible for him to trace back the supply chain of the Engrosmarkt's products he resells.


Explanation of the evaluation criteria.
---
Ortoloco spade brigade.
ortoloco1, 2011.
Agriculture Cooperatives
From Consumers to Prosumers
"In the supermarket you do not see what happens behind the scenes. We are in a deep crisis concerning biodiversity, soil and CO2-pollution. The consumers are alienated from the producer and soil. To tackle this problem we have founded a solidarity agriculture cooperation in which the members physically work on the fields."
Matthias, Meh als Gmües

"Where marketing starts money is made. We do not want to make marketing but agriculture that is good for humans and nature."
Tina, Föndlihof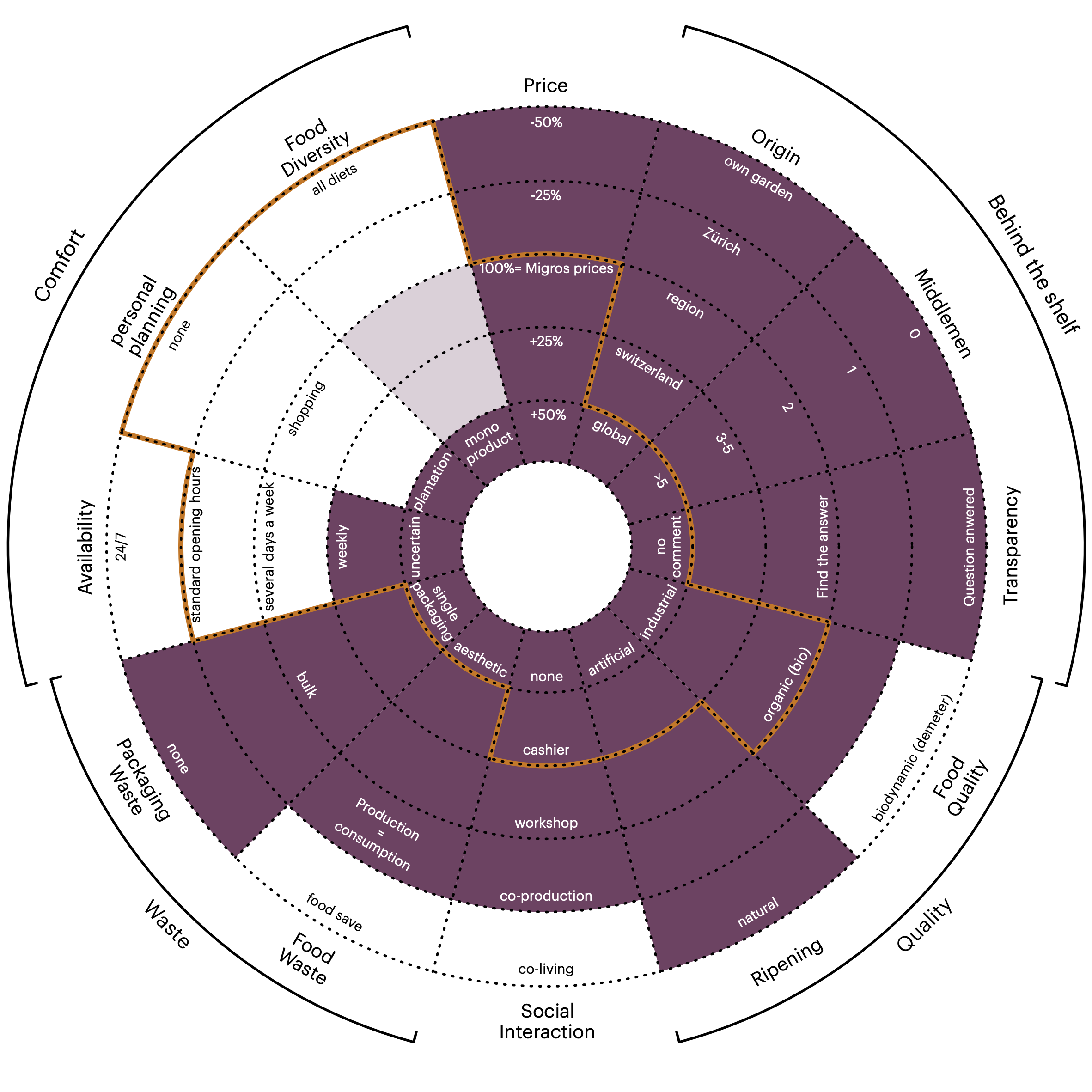 Agriculture cooperatives represent alternative bottom-up models which show how people can organize themselves as
prosumers
in order to autonomously produce a considerable part of their own fresh food within the city.
Ortoloco
and
Meh als Gmües
are born as a reaction to many of the problems that arise from the alienation between producer and consumer. They are trying to bring both together again by cultivating fields as a community of 500
prosumers
.

Explanation of the evaluation criteria.
All members share and benefit from the input and output of resources. Time and labour needed for production are divided equally between the members. The yearly subscription fee which is financing the salary of professional farmers supporting the community and investments for new infrastructure is depending on the member's income. Risks related to food production, namely crops failure due to bad weather conditions or pests, are shared as well. In the predominant food market the farmers carry this risk alone on their shoulders. After each harvest the yield is divided equally between all prosumers.

There are no selling points as the produced vegetables are not traded with an external market. The distribution works in instead with depots at various locations within the city which are easy to reach for all members who come to pick up their share every week. No packaging or bags are needed and food waste is almost totally eliminated. The presence of intermediaries is not required anymore.

---
"Life in harmony with nature."
SRF, 2018.
Permaculture
Earth Care, People Care, Fair Share
"Permaculture is a movement and mindset. Three principles are core: care for the nature, care for the people, and care for the future.
Solidarity agriculture can be one tool for permaculture. But it is not about the tools that you use and more the qualities you want to achieve." Toni, Permaculture Community Balmeggberg
In the
permaculture community Balmeggberg
almost one third of the consumed food is produced within the own property. Practices for growing food, which are compatible with the ethics of permaculture, usually require a lot of hand work and thus a lot of people. Animals, plants, fungae, and people meet in the garden and play an active role on the recirculation of biomass within the property. Nothing is conceived isolated. Over the course of the time the partially reestablished ecosystems get more diverse and therefore also more resilient and productive as we relearn how to live and interact within these ecosystems.

Explanation of the evaluation criteria.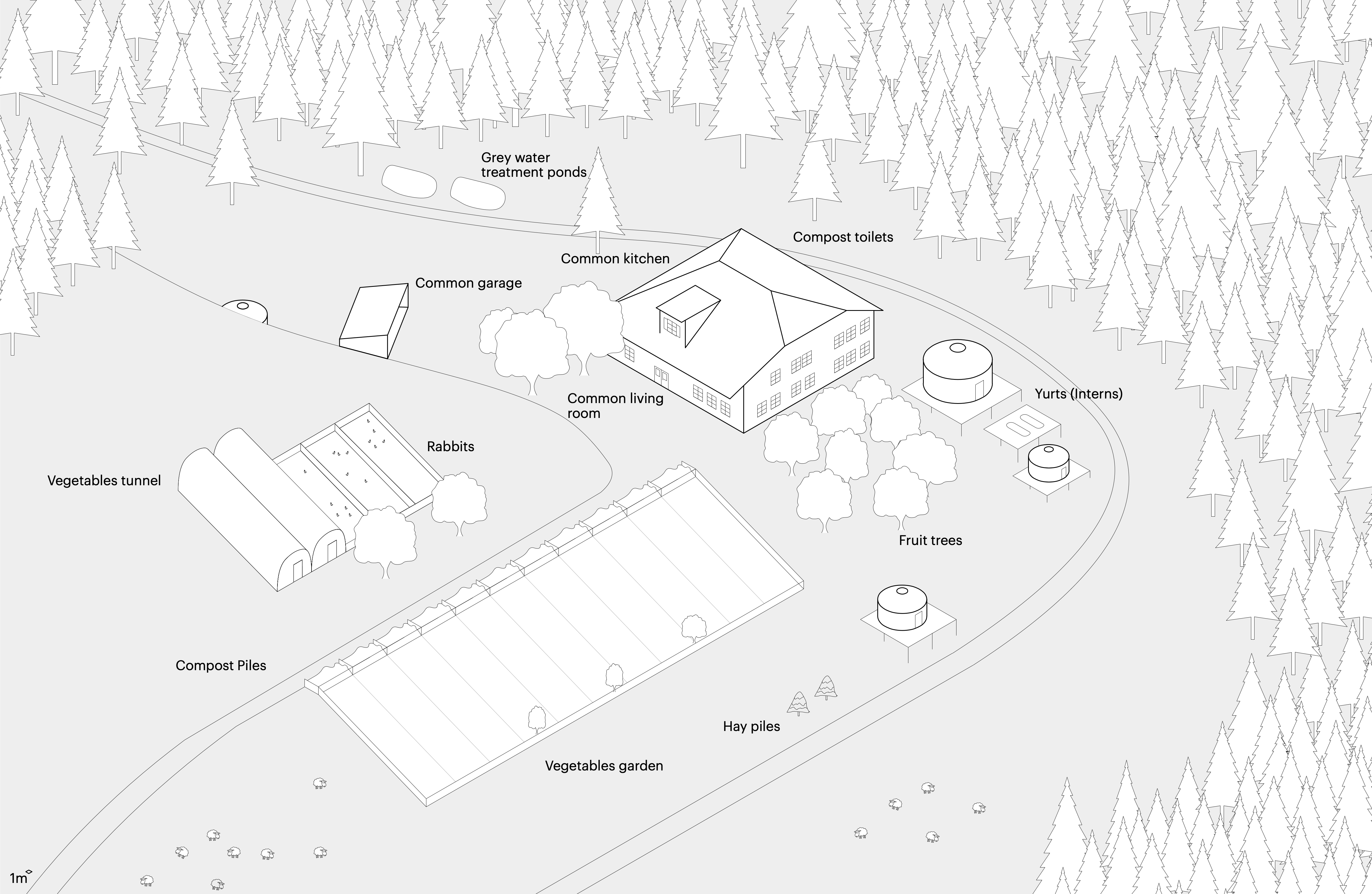 The community did find out that one third of food self-sufficiency is a first limit which cannot be surpassed easily. It would mean a laborious production of some basic goods as milk, cheese, flour, oil, and wine. Instead they precisely choose the missing products from local farmers and food shops in the region.

The community does not only share the production of food, but also the spaces they live in while exploring ways to implement the ethics of permaculture in their lives. There are also some temporary inhabitants helping the community to manage the many tasks in exchange for food and a truly unforgettable experience.

More and more people are getting interested in permaculture and are also willing to pay for courses and consultancies on the topic. This way of sharing knowledge represents a considerable income source for the Balmeggberg community beside the inhabitants' external income which is partly shared.
---
How could Zurich and its surroundings look like when food production would adapt to local climate and soil, when the city has space to produce fresh products and when fair networks between producers, all intermediaries, and consumers are being respected?
V DESIGNING THE SPACES FOR DEMOCRATIC FOOD NETWORKS
For the last decades, big supermarkets have dominated and set the conditions on how food is produced, processed, distributed, and sold. These supermarkets offer apparent advantages for the consumer, which many people who grew up within this logic of consumption could not even imagine to prescind from, such as low prices, big diversity and availability of products, and the comfort achieved by this. However the behaviour of these supermarkets have also created huge problems, mainly environmental and social. Today, we see that people are not only hungry for something to eat, but also hungry for alternatives that can actually enable the world to feed and nurture itself.
Change is imminent if we all, consumers, producers, salespersons, and retailers—overall big supermarkets—choose to apply the lessons learned by small pioneers such as those introduced in the previous chapter.
We have written a manifesto for the future of food markets, based on the efforts, ideals, and ethics of some of these modern initiatives in Zurich. These initiatives are steadily gaining presence in the city as acceptance and support from the population are also increasing.
This manifesto does not attempt to forecast how our cities will exactly change and look like in the future, but rather tries to emphasise that any kind of change starts by intervening not on the physical aspects of our landscapes and cities first, but by reshaping the way our food networks are interconnected and how the players within them, including the consumers, choose to behave and cooperate with each other.
Manifesto for the Future of Food Markets
Fairness and Transparency

Food must not be based on the EXPLOITATION of humans and the environment!
Instead, WORKING CONDITIONS must be based on the WELLBEING of both!
Every step of the SUPPLY CHAIN must be TRANSPARENT for producers, all intermediaries, and consumers!
PROFITS and RISKS must be SHARED EQUALLY between producers, all intermediaries, and consumers!
COLLECTIVE ORDERS between consumers and between small shops will help to boost a more diverse and stable market!
Food MONOPOLY must stop!
Waste

AESTHETIC food WASTE must stop! No food must be transformed into biogas before having been eaten first!
PACKAGING must not be used where it is not required! Most fruits and vegetables do already have a natural packaging!
If needed, it must always be REUSABLE!
Environment and Transport

Every person has a LIMIT for environmental damage! People exceeding the limit must compensate with environmental regeneration work or similar!
The ENVIRONMENTAL IMPACT of every product must be communicated between producers, all intermediaries, salespersons, and consumers!
PRICES must take into account the NEGATIVE EXTERNALITIES causing environmental damage! Compensation taxes must be destined for environmental regeneration projects and for the improvement of soil for a more local food production!
Food transport BY AIR must stop!
Only environmentally friendly transportation modes like bicycles should be used in the city!
Diet
Diets must adapt to climate and soil by reintroducing TRADITIONAL FOOD locally!

FRESH products must be grown as NEAR as possible to the consumers!
ORGANIC PRODUCTS must be the new normal again! Closed cycles of biomass help to regenerate the soil and do result in better food quality!
How could a housing community look like when trying to produce food in the some former green spaces of the city, such as those shared by housing cooperatives; by adapting its diet to local climate and soil, when caring about a cycle of biomass as well as supporting local and global farmers?
How could a supermarket look like caring about food waste, packaging waste, transparency as well as the quality and origin of its products?
Scale 4: Kitchen of a prosumer
How could your apartment change in order to provide natural ripening of fruits, reducing food and packaging waste as well as providing a cycle of biomass?
ACKNOWLEDGMENTS


We would like to thank all people who have supported our research.

Denise Iten, Flughafen Zürich AG
Hanspeter Diem, Eidgenössischer Pflanzenschutzdienst
Engrosmarkt Zürich
David Klier, gebana
Dominik Waser, Grassrooted
Family Nussbaumer, Gfellerhof
Stephan Müller, BioLand Müller
Sandrine, Chez Mamie Zollstrasse
Mario, Ticinese market stall
Matthias and David, Meh als Gmües
Tina, Föndlihof
Anton Küchler (Toni), Permaculture community Balmeggberg
SOURCES


Bio und Demeter in der Schweiz – Spurensuche zu den Anfängen der Öko-Landbaus, Dokumentarfilm, SRF, 2014
Die Migrosgeschichte - Von der Gründung bis heute, migros.ch, 2020

bio-suisse.ch
stadtgmues.ch
stadtgmües.ch
republik.ch
swissinfo.ch
sovranita-alimentare.ch
helfer.swiss
bananenfrauenfrauenfeld.wordpress.com
landwirtschaftmitzukunft.ch
healthyandsustainable.ch
cabi.org

"The avocado : botany, production and uses" edited by Bruce Schaffer, B. Nigel Wolstenholme, and Anthony W. Whiley, 2nd ed.

"Supply chain practices, performance and organizational configuration in the Mexican avocado industry.", J. Jaime Arana Coronado, 2010
"Die Geschichte der COOP-Gruppe, ein Unternehmen in Bewegung", COOP, 2019
L'avocado che lascia senz'acqua migliaia di cileni, Internazionale, 2017
The fruit and vegetable market in Switzerland, Swisscofel, 2018
Rassegna sulla nutrizione Svizzera, Bundesamt für Lebensmittelsicherheit und Veterinärwesen
Nach Hause kommen, Neustart Schweiz, 2016
BLV, 2019
GIS-ZH, 2020
Google Earth, 2020